Private Markets
Private Equity – Opportunities through financing independent of the banks
Only companies that have a strong capital structure can react flexibly in difficult situations and seize emerging opportunities. Expansions with a view to international markets, the development of product ranges, or the introduction of a new innovative product require financing which often banks will not provide. Through direct investment or mezzanine capital we provide new equity capital for our supported business, thus paving the way to achieve objectives that were perhaps previously still a long way off.
Venture Capital – Investment in innovation and growth
As a business and as investors we place trust in the sustainability of the businesses we support. Particularly in the area of venture capital, the use of equity capital is associated with risks. Despite this, we have trust in the project, courage in the investment and confidence in a successful future. For numerous projects, entrepreneurs today receive no bank loans, since the required sum is too high, and the existing collateral assets are too low. As investors, we see our role in promoting innovative projects and ideas, and in contributing through this to the growth and the future sustainability of our economy.
Private Markets Portfolio:

simpleshow
simpleshow is the market leader for explainer videos and so far has produced several thousand
clips in more than 50 languages worldwide. With offices in Berlin, Stuttgart, Luxembourg,
London, Zurich, Miami, Singapore, Hong Kong and Tokyo more than 100 employees serve
customers around the globe, amongst which international companies such as Microsoft, Adobe,
Novartis, Airbus and Deutsche Bank. In Germany 90% of DAX30 companies collaborate regularly
with simpleshow.
simpleshows explain complex topics such as change processes, company policies, product
features or training content in just 3 minutes, easy to understand and in an entertaining way. A
methodically sound production process and the central staff training provided by the in-house
simpleshow academy assure a supreme quality level.
For more information, visit simpleshow
Traxpay
Traxpay, and its industry leading B2B Dynamic Payments platform is capable of executing and settling financial transactions and payments with rich data in real-time, anytime, anywhere, and with complete safety and security. Traxpay customers include B2B commerce network operators, digital marketplaces, and corporations who value the security, speed, flexibility, predictability, and savings the platform, and its many features, provide. Traxpay solutions were built to address the needs of modern B2B commerce and accelerate business across the supply chain.
For more information, visit Traxpay or follow us on @traxpay.
Viprinet
Within the scope of a capital increase, we acquired a shareholding in Viprinet Europe GmbH in 2014. Viprinets technology enables various WAN technologies to be bundled together for the purpose of achieving 100% availability.
Franger Investment has operated as a holding and investment company since 2011. It is active in the field of capital markets, the residential and commercial property segment, and the area of direct equity investments in firms. Moreover, it is involved in innovative financing for new and as well as established companies.
Stampay GmbH
We leverage our holding in Stampay GmbH to invest in the lucrative loyalty system market. Stampay is a young Bavarian start-up company offering its namesake, stampay box, as a product that can be easily installed at any point of sale and is compatible with all standard POS systems. Naturally, the stampay box also supports all current trends in the loyalty market, such as beacons and NFC, while stampay is also a quick and easy way for customers to collect loyalty stars or redeem coupons on or offline.
Since 2011, Franger Investment KGaA (limited partnership with share capital) has operated as a holding and investment company and as a modern family business which supports and encourages newly founded and innovative companies through direct participation and alternative financing solutions.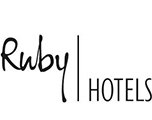 Ruby Hotels & Resorts GmbH
We are supporting the emerging trend of 'Lean Luxury' in the travel & hospitality sector by investing in Ruby Hotels & Resorts GmbH. Ruby focuses on high-margin individual guest-centric business, rather than costly extras such as concierge, room service, fitness and wellness or common and meeting rooms, and this focused perspective is what allows Ruby to emphasise quality rather than quantity. The optimally located hotel also houses a trendy bar and showcases designer rooms as luxurious and sophisticated modular spaces. Minimalism is also leveraged to ensure a perfect breakfast is offered – slimmed down but still boasting the best in high-quality organic products, reflecting contemporary nutritional habits.
Franger Investment is a family-owned holding company which helps companies achieve their goals on the back of targeted investments and holdings. We partner and support our customers and help kick-start their innovative and forward-looking ideas by providing capital; this upholding our commitment to sustainable growth.